Welcome to Sarah Ariss Cognitive Hypnotherapy.
Welcome to Sarah Ariss Cognitive Hypnotherapy.
Sarah Ariss. B.A (Hons), HPD, DipCHyp, NLP Master Prac.
Cognitive Hypnotherapy in Herts.
Hello and welcome to my website. If you are experiencing anxiety in your life, if you feel lost and out of control then I would love to be able to help you. I work with people who often feel overwhelmed with worry.  Guiding clients to a safer, more comfortable place, is what I am trained to do as a Cognitive Hypnotherapist. Anxiety does not need to be in your life – whether it's connected to work, school or some other aspect – we can work together at your pace to make life what you want it to be.
There is a great deal of information around this site; but you are also welcome to contact me and arrange a time to talk in a complimentary telephone consultation. My details are at the end of this page for you & I will happily answer any questions you might have.
Therapy to help you live your life well.
Sometimes life feels hard. Talking to a therapist is a safe, effective way of getting yourself back on track. My clients are ordinary, everyday people who have decided to find help, to be able to live their lives well.
Cognitive Hypnotherapy  is a talking therapy which uses structured, solution focused sessions to help you regain the best version of you. We all have the resources within us to live a good life. Sometimes we just need a little bit of help to enable us to use those resources. Cognitive Hypnotherapy is a modern approach that draws from various models of therapy, but which treats every client as an individual, not a label.
Whether you have a fear of something, want to rid yourself of a habit, or perhaps you don't feel quite good enough to be confident in your daily life, Cognitive Hypnotherapy can gently guide you towards being the person you would, ideally, like to be.
The mind is an amazing thing and Cognitive Hypnotherapy is a very powerful tool with which to interrupt and alter limiting beliefs. You might be struggling with an issue you find difficult to talk about. Perhaps you feel that you have failed. Well, quite simply, you have not. Finding this page shows that you are looking for change and reading through my site is the first step to making that change happen.
Solution focused therapy in a calm, welcoming practice.
I run a friendly, welcoming practice where we can work together to help you move to where you want to be in your life. Sessions are confidential, structured and solution focused, with support between appointments and a calm, gentle approach. We don't spend hours going over and over your problem, but work towards the future with positivity. I offer concrete techniques to help you live your everyday life in the way you want to.
If, after having a look through my site, you feel that I am the person who can help you, then do feel free to contact me on 07894564287 or email me on sarah@sarahariss.com.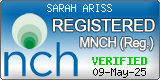 About Me...
I live in Welwyn Garden City with my husband and two teenage sons and have worked in a local school for the last fourteen years. I grew up in a family of four children where my dad was a GP and my mum a nurse. My dad was ahead of his time, using hypnosis in his work with patients, mainly for pain relief and relaxation, so growing up with hypnosis, for us, was nothing unusual!
Cognitive Hypnotherapy
Cognitive Hypnotherapy is a flexible, modern talking therapy that has the needs of the client at its heart. Each client is an individual with their own very specific issues and Cognitive Hypnotherapy offers a bespoke approach, drawing from a variety of therapies, including Cognitive Behavioural Therapy, NLP and Traditional Hypnotherapy…
How Can I Help You?
There are times in life when we all struggle. We can be feeling a specific fear or problem… or maybe we just can't put a name to the feeling… we just feel stuck. Cognitive Hypnotherapy is a talking therapy that is solution based. That is… we talk about your problem, but focus on your solution.